2012 Award Winners ATMOSPHERIC RESTAURANT OF THE YEAR 2012
The Olde Post Inn, Cloverhill, Co Cavan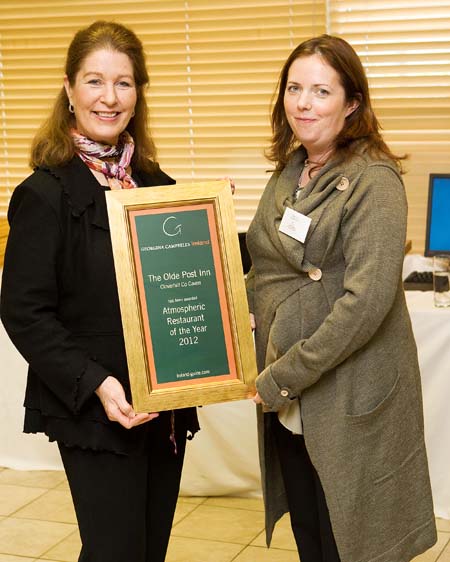 Irish diners place a high premium on atmosphere – often rating it even above the quality of food when choosing where to eat out – but our next award-winner, although certainly atmospheric, has much more to it than that. As everyone familiar with past winners of our Atmospheric category will know, we seek out establishments that offer very high standards all round, with great atmosphere as the icing on the cake.
This year's winner was actually nominated in several categories and is regularly praised for its outstanding food and 'value for money' – for which we have no category, as all of our award winners are expected to deliver value for money as matter of course.
But what you get from this leading Euro-Toques chef is excellent classical cooking based (as it always has been) on seasonal local ingredients, also caring service from local staff, a lovely cosy ambience – and a comfortable place to stay as well.
A magic combination that keeps 'em coming back for more – so much so, in fact, that extra space was needed and this characterful old building has been greatly extended recently; but the changes to
The Olde Post Inn
have been so subtly achieved that it's surprisingly difficult to work out where the old and new now meet.
The extension has made for a much more comfortable dining environment, but nothing has been lost along the way and the atmospheric vibes that have always been a USP at this delightful spot are still working the same old magic.
Gearoid and Tara Lynch's restaurant is in an old stone building in a neatly landscaped garden which served as a post office until 1974 and, since then, has made an attractive and popular inn. Gearoid is a talented and very committed chef and, with Ta ...
more...
---
Show me all 2012 Award Winners