2007 Award Winners B&B OF THE YEAR 2007
Killyon House, Navan, Co Meath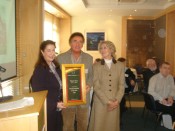 Of late much has been made of the difficulties faced by the traditional B&B sector in Ireland – but don't be too quick to write it off, as long as places like Michael and Sheila Fogarty's smart and welcoming bed and breakfast on the edge of Navan town are there to show how it should be done.
Decorated with colourful hanging baskets and with double-glazed at the front to reduce traffic nice, it has lovely gardens at the back leading down to the banks of the Boyne – and guests have fun spotting wildlife, sometimes including otters and stoats, from the dining room, while enjoying a particularly good breakfast. (Killyon was the B&B category winner of our Irish Breakfast Awards.)
The Fogartys are extremely hospitable and nothing - even preparing a very early breakfast - is too much trouble: this is a lovely place to stay.
---
Show me all 2007 Award Winners