2008 Award Winners B&B OF THE YEAR 2008
McMenamins Townhouse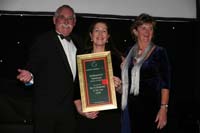 We don't know exactly what it is about Seamus and Kay McMenamin's B&B, but we receive more letters heaping praise on this Wexford townhouse (and its delicious breakfasts), than any other establishment in Ireland. Not phone calls, not emails but real letters in the post - it is quite extraordinary.
They first came to our attention by personal recommendation, and it has been one of the most highly-regarded places to stay in this area for many years, making a useful first or last night overnight stop for travellers on the Rosslare ferry (15 minutes), a base for the Wexford Opera, or for a short break exploring this fascinating corner of Ireland.
Planned road widening recently caused this hospitable duo to up sticks and move around the corner to another Victorian terrace house that has been completely restored and beautifully furnished, with everything that you need to be comfortable away from home. The McMenamins' extensive local knowledge is generously passed on to guests (hunting, shooting, fishing and walking are all nearby, also scenic drives, historic walks, racing, boating, swimming and tennis) and this, together with that legendary breakfast, gets you off to a good start and helps to make the most of every day: quite extensive menus include old-fashioned treats like kippers and lambs' kidneys in sherry sauce, omelettes or pancakes - a McMenamin breakfast is always beautifully prepared and presented, and cooked dishes served piping hot: you will want to return as soon as possible!
---
Show me all 2008 Award Winners