2011 Award Winners BUSINESS HOTEL OF THE YEAR 2011
Crowne Plaza Northwood - Dublin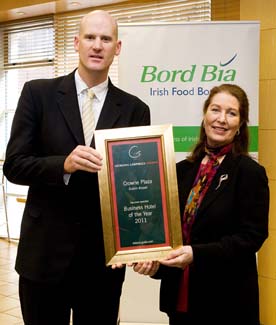 "A partner hotel to one of our previous winners in this category, Clontarf Castle, this is a much larger – and very much newer – property, but it shares some of the same qualities.
Conveniently located near Dublin Airport, this 204 bedroom 4* hotel's complimentary on-site parking and state-of-the-art conference facilities and meeting rooms make it a good choice for business meetings, to avoid the hassle of going into the city (8km/5 miles).
In fact it's the kind of place that might make you question whether spending billions on the metro is really necessary, as it offers facilities for a couple of thousand people (many of them likely to be international delegates) and it's such an exceptionally pleasant location that they may well be happy to remain in the area for most of their stay – Fingal certainly offers plenty to do in leisure time.
Surrounded by gardens and mature woodland, the busy main road and even the airport (which is only 2 km away - courtesy coach available) seem very distant, making for an unusually tranquil and relaxing atmosphere for an hotel focused on the conference and business market – and those staying on the Business Floor have complimentary Club Lounge facilities on weekdays.
With easy parking, free broadband, business centre, secretarial services and a range of 25 meeting rooms available for anything from 2 to 100 people, it's also a very attractive venue for local businesses.
Food offered includes a choice of restaurant and good all day bar meals, under the direction of Executive Head Chef Logan Irwin, and Head Chef Tony O Donnell, and business guests also find the good (and promptly served) room service meals are particularly welcome.
The stated aim of the Crowne Plaza, Dublin Airport "to create a 'business hospitality environment' " is successfully achieved, but this also makes a pleasant airport hotel for leisure guests – a well-planned and well-run all rounder, in fact."
Pleasingly located in a quiet and leafy off-road site, The Crowne Plaza Dublin Airport Hotel is an impressive new hotel less than 3km (2 m) from Dublin Airport and with parkland views. The Crowne Plaza is a sister hotel to Clontarf Castle Hotel (see en ...
more...
---
Show me all 2011 Award Winners