2013 Award Winners BUSINESS HOTEL OF THE YEAR 2013
The River Lee Hotel, Cork City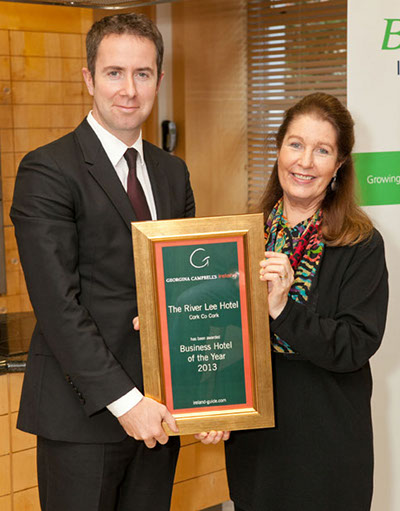 Food tourism and agriculture may be the hot white hopes for recessionary Ireland, but many of our best establishments are identifying other equally attractive niche markets and, along with several other categories in these awards, business tourism is a key one.
A good modern hotel, well located for business and with ample parking, is a great asset to any city. The River Lee Hotel, although equally attractive to leisure guests, fills the business niche particularly well, offering underground parking (accessed by lift from the foyer) and great facilities, including a range of meeting rooms; also a dedicated executive floor and lounge on the penthouse floor, and a leisure centre and spa for downtime.
Although it may lack the visual wow factor of some showier new properties, good design makes this hotel stand out and it makes the most of every inch of its desirable waterside location.
There's good food too, in the attractively sited restaurant (where else in the city centre could you watch a man out fishing with his dog, just yards from your table?) and, best of all, interested staff have the companionable touch that makes a business hotel feel homely.
A fine successor to the popular Jurys Cork Hotel.
Following complete redevelopment of their original riverside site on Western Road, The River Lee Hotel regained its place as one of the most popular Cork hotels, especially perhaps for business guests. Well-located, it is beside the university and w ...
more...
---
Show me all 2013 Award Winners