2014 Award Winners CAFé OF THE YEAR 2014
Walton Court Café, Oysterhaven, Co Cork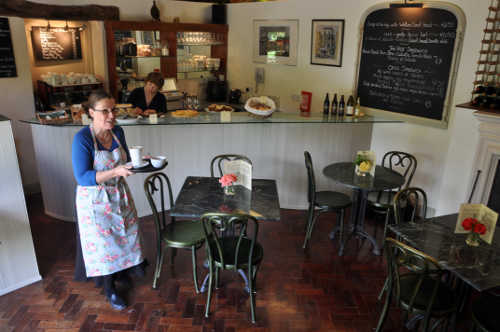 In a scenic location near Kinsale, a delightful listed building dating back to 1645 overlooks Oysterhaven Bay – and a courtyard conversion includes an atmospheric café, which has become a treat destination for locals and visitors holidaying in the area.
It's weather-proof too, with a cosy stove for colder days and an outside seating area bedecked with flowers and greenery for fine weather. While it's best known for cakes and pastries, blackboards also list other temptations of the day - a simple yet beguiling mixture of local produce and continental specialities which match the ambience perfectly.
Homemade breads (also on sale at the counter to take away) are made with organic flour and form the basis of many of the savoury options such as a fresh crab plate (which, commendably, includes some brown meat as well as white).
There's a hot dish of the day – a beef & Guinness pie, perhaps – and a choice of really delicious salads…also local craft beers and traditional thirst quenchers like elderflower cordial and lemonade. Seriously charming.
In a scenic location overlooking Oysterhaven Bay, near Kinsale, Paul and Janis Rafferty's lovely old house is a listed building dating back to 1645. Following years of restoration, it's home to a number of activities and events – and ...
more...
---
Show me all 2014 Award Winners