2011 Award Winners CASUAL DINING AWARD 2011
Miss Courtney's Tea Rooms - Killarney, Co Kerry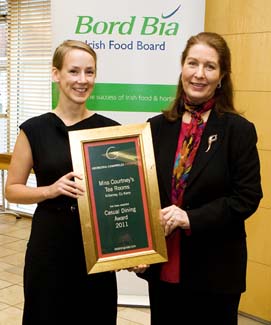 We introduced this award last year in order to highlight the best among the kind of informal, accessibly priced restaurants people drop into without booking; it could include café bars etc, and most are all day operations, but the main aim is to seek out good simple cooking based on quality ingredients - and especially the home baking that can be the highlight of a day out.
"There happen to be a lot of good tea rooms in Ireland at the moment. And a good thing too, as these delightfully relaxing options for daytime refreshment were noticeable by their absence for too long.
Given their association with the ladylike pursuits of Victorian times, it's appropriate that the one we are commending especially should be in Killarney – where better to appreciate delicious baking and the rituals of afternoon tea, set off by linen tablecloths and proper china?
And this particular business dates back to Edwardian days, as it was established as a confectioner, grocer and tobacconist in 1909 – and the present owner, Sandra Dunlea, is the fourth generation to trade in the premises.
What an inspired idea to make it into an old world Tea Shop – and how well it is done, offering a delicious range of light food throughout the day."
Situated on busy College Street in the centre of Killarney, Miss Courtney's Tea Rooms has all the elegance and charm of a bygone age, offering harrassed visitors the perfect antidote to the pushy modern world outside. The tables are dressed with ...
more...
---
Show me all 2011 Award Winners