2008 Award Winners CHEF OF THE YEAR 2008
Paul Flynn - The Tannery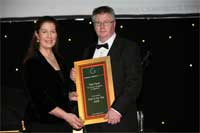 This much coveted title goes to a widely respected chef – and a previous winner of the Guide's Restaurant of the Year Award (2004). Already recognised as a special talent in the mid '90s, Paul Flynn attracted critical acclaim for Ireland's most glamorous (and fun) restaurant of the time - La Stampa which won the Egon Ronay Restaurant of the Year Award in 1995.
But, within two years Paul Flynn and his wife Maire bravely headed back to his west Waterford home town, to open a cutting edge contemporary restaurant in an old leather warehouse in Dungarvan. It must have been tough in the early years, but this accomplished chef's thoughtfully conceived, beautifully prepared and keenly priced food soon began to attract fans from all over Ireland – and beyond.
Menus give nothing away in their simplicity and the cooking is also deceptively simple, yet the tastes are invariably exciting, with local ingredients taking centre stage and giving a pleasingly Irish feeling. Even hardened food critics are continually surprised by Paul's cooking which, as one fellow chef put it, "makes dishes which you thought you knew taste as if you were eating them for the first time".
Not content with earning success for the restaurant, this highly original chef now has two acclaimed cookbooks under his belt – and things came full circle for him recently, when the former La Stampa re-opened in its new pared down bistro style, as Balzac – with none other than Paul Flynn as consultant chef.
Remarkable achievements all round and, especially, for ensuring that the high standards at his own Dungarvan restaurant, The Tannery, never so much as flickered when other projects came along. Seriously good.
Since 1997, discerning diners from all over Ireland (and beyond) have needed only the flimsiest excuse to make a beeline for Paul and Maire Flynn's stylish contemporary restaurant in Dungarvan It was a great asset to the town from the outset and, sin ...
more...
---
Show me all 2008 Award Winners