2012 Award Winners CHEF OF THE YEAR 2012
Aidan McGrath - Wild Honey Inn, Lisdoonvarna, Co Clare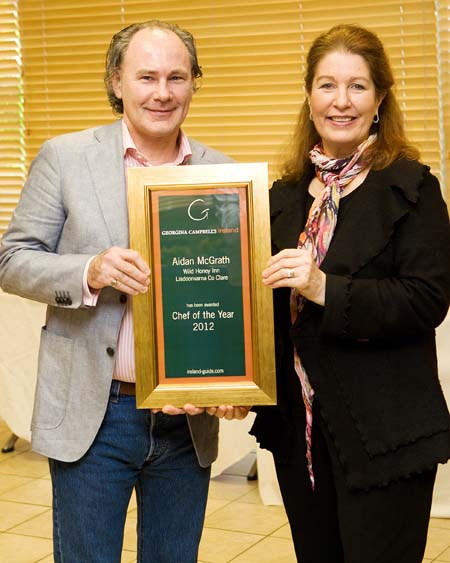 Interesting developments are taking place in that other-worldly place inhabited by top chefs, many of whom have thrown in the towel when it comes to cheffy extravagances (think foams and smokes).
Many are taking the fashionable foraging route (a scenic diversion), and an especially interesting minority are answering the call of a discerning dining public who want really good casual food without all the fuss of fine dining, by bringing their classical skills into play in relaxed surroundings – and at accessible prices.
Our Chef of the Year (Aidan McGrath of
Wild Honey Inn
) is one of those classically trained chefs who can surprise and delight first-time visitors to his family-run pub with the depth of flavour and superb cooking that lifts even the simplest of dishes - such as smoked salmon (Burren Smokehouse, naturally), fish & chips, a seafood soup or just a homemade burger - into the memorable category.
Although there's much more to it than that, of course - "Modern Bistro Style' is what Chef calls it – nothing but the best is allowed in or out of this kitchen, and this superb, simple yet deeply flavoursome food is all served in the characterful bar.
Along with a couple of other outstanding food businesses nearby, this lovely inn has really changed the image of this town – and it's not only worth a detour now, but a foodie destination of choice.
Set in pretty gardens on the edge of Lisdoonvarna town, this old hotel was re-opened by Aidan McGrath and Kate Sweeney in 2009. They renamed it The Wild Honey Inn, and the world wasted no time in beating a path to their door. A well known chef, Aidan ...
more...
---
Show me all 2012 Award Winners