2011 Award Winners COUNTRY HOUSE OF THE YEAR 2011
Marlfield House - Gorey Co Wexford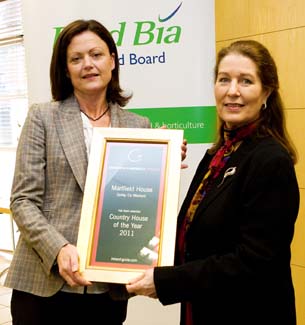 "With conspicuous consumption so seriously out of favour at the moment and every penny being counted by virtually everyone, it is particularly difficult for those hotels, restaurants and country houses that have established their reputations on exceptionally high standards to get across the point that they are offering something unique and - when done consistently well – that the necessary cost involved constitutes good value for money.
So, let us raise a voice in praise of those who adamantly refuse to downgrade their quality offering, concentrating instead on finding innovative ways to attract guests.
Marlfield House is a beautiful, small country house hotel that has never been in any doubt about its position in the luxury niche, with an emphasis on impeccable service, exquisite traditional style, superlative comfort and delicious food – much of it coming from their own immaculately maintained kitchen gardens.
Now run by Margaret and Laura Bowe, the daughters of the original owners (who have retired nearby), this jewel of a country house has a less formal atmosphere of late, but without so much as a hint of any slippage in standards – and their vigorous marketing underlines its position as a cultured destination, associated with events such as the Wexford Opera Festival and in-house offerings like their very special lunchtime recitals, held on occasional Sundays throughout the year.
Apart from the slightly more relaxed style, the only obvious concessions to 'the times we find ourselves in' are the offering of some more pocket-friendly menus, including a light supper.
Congratulations to all at Marlfield House are well earned."
Country House / Restaurant
Often quoted as 'the luxury country house hotel par excellence', this impressive house outside Gorey was once the residence of the Earls of Courtown, and is now an elegant oasis of unashamed luxury offering outstanding hospitality and servi ...
more...
---
Show me all 2011 Award Winners