2013 Award Winners COUNTRY HOUSE OF THE YEAR 2013
Carrig House, Caragh Lake, Co Kerry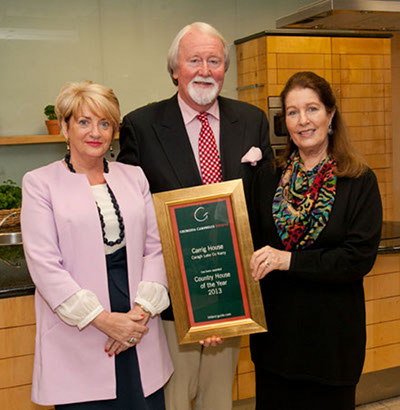 Many city folk harbour a dream of moving to the country and living in a lovely old house set in its own grounds. Only a pipe dream for most, so a weekend away in one is a treat to be treasured – especially as 'proper country houses' aren't that easy to find nowadays.
Romantically clothed with climbers and just a few yards from the lake shore, Frank and Mary Slattery's country house is a lovely serene place to stay just off the Ring of Kerry – a perfect escape from the modern world. It's a place where you can lose yourself for hours with a book, or playing chess, cards or board games in the games room, wandering in the gardens (a map is available), or boating out on the lake.
The house is welcoming and full of character, with very friendly and helpful staff (the owner himself carries the luggage to your room) and a relaxed atmosphere. Choose your favourite spot in one of the charming sitting rooms where you can chat beside the fire or have a drink before a very good dinner – and enjoy the views across the lake to the Magillicuddy Reeks.
Frank and Mary have made this lovely old house a uniquely homely destination – and it's well worth a detour.
At the heart of Frank and Mary Slattery's sensitively extended Victorian house just off the Ring of Kerry lies a hunting lodge once owned by Lord Brocket - and he chose well, as it is very attractive and handsomely set in fine gardens with the la ...
more...
---
Show me all 2013 Award Winners