2011 Award Winners ETHNIC RESTAURANT OF THE YEAR 2011
China Sichuan - Sandyford Dublin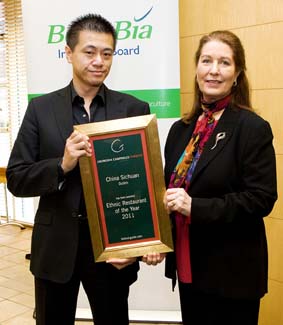 "This restaurant has been Ireland's benchmark Chinese restaurant for two generations, and is a previous recipient of this award.
It should in perhaps be named The Phoenix as, not long after moving to new premises, this family-owned favourite closed last winter and appeared to be a victim of the recession. Then, to the delight of its many fans, it reopened in the summer of 2010 after a six month hiatus.
And, to a collective sigh of relief, it soon transpired that its modern interpretations of classic Sichuan cuisine are better than ever: classic dishes like tea smoked duck have been tweaked and given updated presentation by the brigade of young chefs who are reinterpreting traditional Sichuan and Cantonese cuisine with modern style.
A special section of "Chef's Recommendations" highlights the kitchen's authentic Sichuan dishes based on centuries old recipes – and well-versed servers explain dishes and their ingredients, offering to tone down the amounts of chilli oil, Sichuan pepper and hot oil, if requested.
The layout of the modern dining room has been improved too - and, on fine days, the glass frontage opens onto an inviting outdoor terrace with umbrella tables and seating.
Accessible to all, as well as satisfying discerning diners, well priced Sunday lunches are especially popular with families.
Welcome back China Sichuan!"
Fans of China Sichuan enjoy this Dublin restaurants modern interpretations of classic Sichuan cuisine - which is better than ever - with the wide-ranging à la carte menu complemented by value menus both at lunchtime and in the evening. The layo ...
more...
---
Show me all 2011 Award Winners