2012 Award Winners ETHNIC RESTAURANT OF THE YEAR 2012
Cava Spanish Restaurant & Tapas Bar - Galway City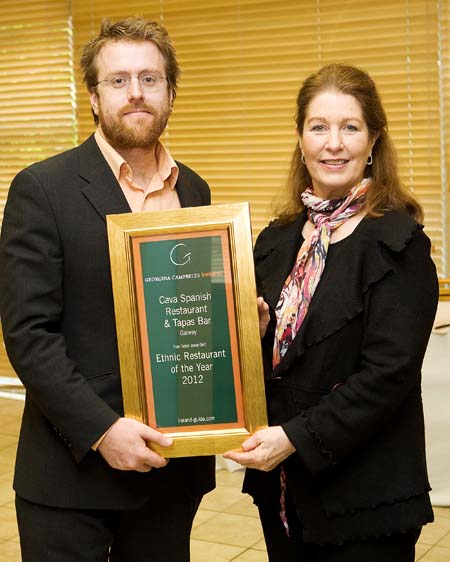 There has been an 'Ethnic Restaurant' category in our awards since their inception in the early '90s and, until now, the title has been interpreted as 'oriental'. But a lot has changed in Irish dining and, in addition to a surge of new oriental restaurants (many of them excellent), authentic cuisines from all over the world are now well represented here, including a range of European traditions. So we decided to open up the criteria, to include all restaurants that truly represent any specific culture –
and this year's winner is an excellent example of the authenticity we admire, having brought a true taste of the Iberian peninsula to Galway city.
"Not a bull or toreador poster to be seen - but the menu is in the Spanish language, with English sub-titles; the wine list covers the Spanish spectrum, offering about 80 well chosen bottles; and the cooking is innovative, displaying the knowledge and expertise of a passionate owner chef."
Treats in
Cava Spanish Restaurant & Tapas Bar
include an all day tapas menu that takes one on a 50-dish tour of Spanish cuisine in miniature and, in the evening, there are suggested pairings for Tapas & Sherry and Tapas & Wine.
[Next door, a northern European counterpart, the critically acclaimed Aniar, was recently opened by the same team.]
One of three Galway restaurants owned and operated by husband and wife team Jp McMahon and Drigín Gaffey in the EatGalway Group, the small, brightly painted traditional shop front looks out on a favourite Galway landmark, Charlie Byrnes Bookshop ...
more...
---
Show me all 2012 Award Winners