2007 Award Winners FAMILY FRIENDLY HOTEL OF THE YEAR 2007
Dingle Skellig Hotel, Dingle, Co Kerry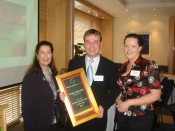 There is a special art to providing the framework for successful family holidays in an hotel, and it lies firstly in ensuring that the different needs of both adults and children are catered for and – most importantly – that adult guests without children in tow are treated with due consideration.
They have all this down to a fine art at the Dingle Skellig, with organised entertainment for children and superb leisure facilities (recently joined by a luxurious health and beauty centre) and – most importantly – a policy of dedicating floors for family use to avoid disturbing guests travelling without children.
There's also good food with a view, plenty of room for guests to spread out and relax in the very spacious and comfortably furnished public areas – and, of course, there are lots and lots of things for families to do nearby, including dolphin-watching, as Dingle's most famous resident, Funghie, is always willing to oblige.
It may be modest-looking from the road, but this 1960s hotel enjoys a superb shoreside location on the edge of Dingle town and has won many friends over the years. A well-run, family-friendly hotel with organised entertainment for children in school ...
more...
---
Show me all 2007 Award Winners