2011 Award Winners FARMHOUSE OF THE YEAR 2011
Lough Bishop House - Collinstown, Co Westmeath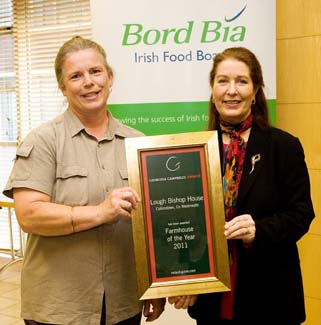 "A stay on a working farm is the dream for many people holidaying in Ireland and this one is a destination that would be hard to beat.
In the beautiful rolling countryside and rich farmland north of Mullingar – which is unquestionably one of Ireland's 'undiscovered' gems - you'll find Helen and Christopher Kelly's home, Lough Bishop House, an idyllic 19th century farmhouse at the heart of an organic farm, complete with Irish draught horses and a caring couple who offer a genuine Irish family experience.
It's one of only a few places in Ireland where you are likely to eat rare breed Irish Moiled beef for your dinner, which - along with home produced lamb, free range eggs and fruit - will probably include foods from other local producers too, carefully sourced to showcase the fine foods the area has to offer.
It is a fantastic place, comfortable and very well run - if every visitor to Ireland took in a night or two at a place like this, we'd be beating them from the door."
Down a long drive off a byroad between Collinstown and Castlepollard, in a beautifully scenic area awash with lakes, gentle hills and rich farmland, you'll find Lough Bishop - a working organic farm where Helen and Christopher Kelly offer a warm ...
more...
---
Show me all 2011 Award Winners