2012 Award Winners GOOD COOKING AWARD 2012
Ballymaloe House, Shanagarry, Co Cork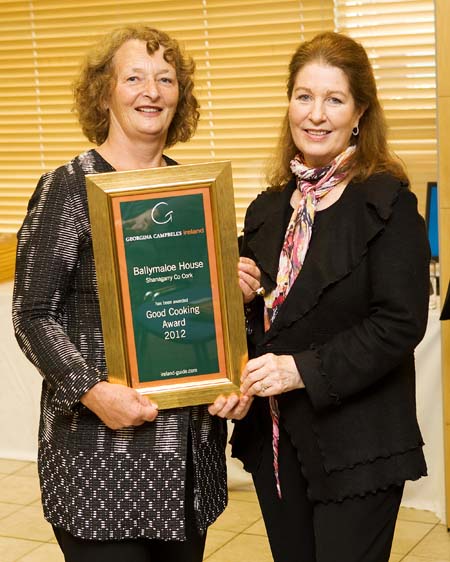 It may seem strange for something as basic as a Good Cooking Award to go to an establishment that has been festooned with awards for every aspect of its business over many years – but that is just the point. On our travels this year we have experienced too many disappointing meals and, if they are to stay in business and improve, those responsible for serving up unimaginative, badly cooked meals based on cheap ingredients, would do well to consider the reasons for the success of our most-admired country house.
From the very beginning, in 1964, the
Ballymaloe
ethos was to serve simple, carefully cooked meals using the good seasonal ingredients of their own farm and the surrounding area; to this day, the same principles apply and I defy anyone to find a better meal anywhere – and, thankfully, Darina's equally famous cookery school nearby continues to spread the philosophy far and wide.
I remember Myrtle Allen appearing as a guest judge on the RTE programme The Restaurant once; having been presented with the usual rather over-ambitious meal, she considered carefully before giving her verdict: "I thought the carrots were very tasty", she said. A lesson to us all, perhaps!
Ireland's most famous country house, Ballymaloe was one of the first to open its doors to guests when Myrtle and her husband, the late Ivan Allen, opened The Yeats Room restaurant in 1964. Accommodation followed in 1967 and since then a unique n ...
more...
---
Show me all 2012 Award Winners