2012 Award Winners GOOD HOUSEKEEPING AWARD 2012
Ballymaloe House, Shanagarry, Co Cork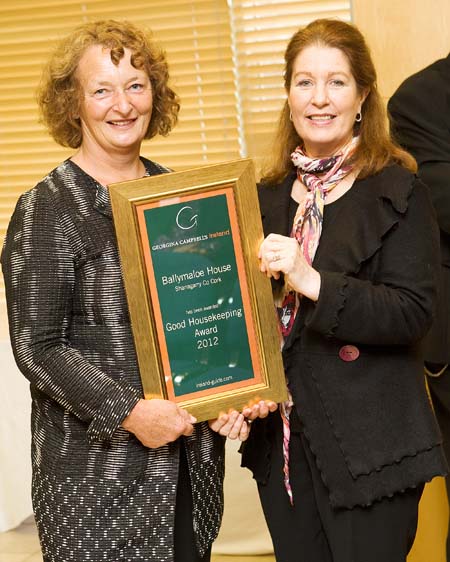 Almost three years into the recession, the budgetary pressures that establishments are experiencing is really beginning to show on premises of all types and sizes, with lack of maintenance and refurbishment, and simply sloppy housekeeping, letting the side down. Scuffed paintwork and torn wallpaper mar formerly smart corridors, cracked tiles and mildew spoil trendy bathrooms, where things often don't work because the plumbing is more stylish than functional; in one B&B (not recommended!) we even found an old pair of socks languishing in a layer of dust under the bed. And just don't start me on tatty menus and sticky tables. A national action plan is definitely needed when it comes to routine maintenance and housekeeping.
So, how wonderful it is to visit those places – and there are many - where all is pristine and welcoming. One of our most enjoyable stays this year was (surprise, surprise) in East Cork.
As usual, we noted with pleasure the low key comfort of our room – nothing flashy, simply furnished with exactly the right amount of furniture in exactly the right place for all our needs, well placed lighting, timeless bathroom fittings, everything immaculately clean and maintained.
On checking out, I remarked on the soothing simplicity of the room and, especially, the beautiful curtains. "Ah yes," said Hazel with a smile, "They are lovely aren't they – it's a Sybil Connolly design from about forty years ago; we bought the fabric when the contents of her house were sold, so they're doing pretty well." That means they've been up for well over twenty years - probably re-lined at some stage, but in perfect condition.." That says a great deal about housekeeping at
Ballymaloe House
!
Ireland's most famous country house, Ballymaloe was one of the first to open its doors to guests when Myrtle and her husband, the late Ivan Allen, opened The Yeats Room restaurant in 1964. Accommodation followed in 1967 and since then a unique n ...
more...
---
Show me all 2012 Award Winners