2011 Award Winners GREEN IRELAND HOSPITALITY AWARD 2011
Ballynahinch Castle Hotel - Recess, Co Galway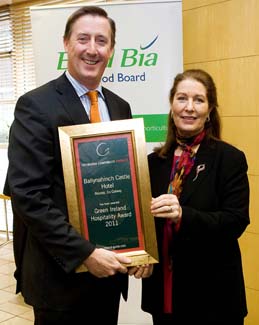 The question of ecological damage caused by tourism has been taxing many a mind of late, and we at GC Guides are no exceptions.

When requesting factual data from recommended establishments over the last few years, we've asked about environmental accreditation and any initiatives being undertaken by individual properties.

Until recently the response has been minimal, but many establishments are now taking active measures to reduce environmental damage, some achieving national recognition with the Green Hospitality Awards scheme (recently extended to include restaurant and festivals), and some receiving official EU recognition of standards being met.

By way of further encouragement, we now give an annual GCGuides Green Ireland Hospitality Award, which is open to all categories in The Guide.
"There are many reasons to love Ballynahinch Castle Hotel – it's in one of the most stunningly beautiful parts of Ireland, for a start, the building itself is wonderfully full of history and romance (and surrounded by beautiful gardens), it's a fantastic destination for fishing and other country pursuits, it's superbly comfortable and full of character – and you will eat extremely well here.
And, appreciating the natural perfection that they are blessed with as much as their guests do, the management have long regarded themselves as mere custodians of this beautiful environment.
Measures introduced to safeguard it include state of the art wood pellet boilers and solar panels (providing a carbon neutral hot water and heating supply to the hotel), waste reduction and separation (65% reduction in landfill waste).
And the hotel, which is a partner in the Leave No Trace Programme (www.leavenotraceireland.org), is also committed to enhancing the surrounding ecosystems through a woodland regeneration programme (guests can even participate in a Plant a Tree break), and invasive plant species removal.
Renowned for their salmon fishery, their fisheries management programme is something very dear to their hearts, and the results are heartening - closure of nearby salmon farms and the ban on drift netting having resulted in 'an immediate renaissance in the fishery'.
For their commitment to the environment and the many positive initiatives they have in place to safeguard it, we heartily commend Ballynahinch Castle Hotel."
Renowned as a fishing hotel, this wonderful place was the Guide's Hotel of the Year in 2012. A crenellated Victorian mansion, it enjoys a most romantic position in 450 acres of ancient woodland and gardens on the banks of the Ballynahinch River. Its ...
more...
---
Show me all 2011 Award Winners