2008 Award Winners GUESTHOUSE OF THE YEAR 2008
Whitepark House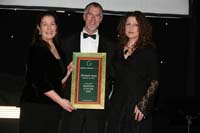 A warm welcome from chatty and well-informed hosts Bob and Siobhán Isles awaits visitors to this pretty old house which is tucked away in well-maintained gardens and has stunning views of Whitepark Bay, and a beautiful beach just across the road.
Arriving guests, welcomed to the cosy sitting room - furnished with couches, easy chairs and an extraordinary array of antiques - could easily lose themselves in hours of relaxation at the open fire while indulging in homemade pastries and bottomless cups of perfect tea.
The bedrooms have just been redesigned to allow for en-suite bathrooms, which are gorgeous – in one you can lie in the bath and soak in the beauty of the garden. They have also added a huge conservatory at the back, where breakfast is served; Bob likes to see guests well prepared for the day ahead – there is much to explore, notably of course, the beautiful north coast and the Glens of Antrim - and, as a vegetarian, he's well placed to make a great vegetarian breakfast in addition to a perfect rendition of the traditional Ulster Fry.
Bob and Siobh?n are exceptional hosts, giving guests plenty of space to relax but ensuring they never want for anything. A treasure indeed.
Tucked away in a sylvan setting, well back from the road and with stunning views of Whitepark Bay, Bob and Siobhan Isles's pretty old house as a path down to a beautiful beach just across the road. Bob, a chatty and well-informed host, welcome ...
more...
---
Show me all 2008 Award Winners