2013 Award Winners GUEST ACCOMMODATION OF THE YEAR 2013
Drumcreehy House, Ballyvaughan, Co Clare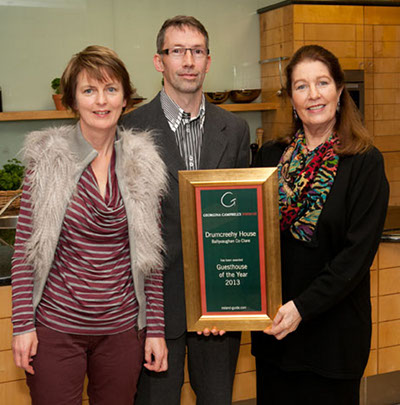 Competing with hotels is no joke for the owners of guesthouses and B&Bs these days, but they often have the edge when it comes to providing a memorable visitor experience.
Armin and Bernadette Grefkes' immaculate guesthouse may be a little less obvious than places in the village centre, but that gives a sense of discovery – and visitors are delighted to find it. A quieter location and plenty of space are among the advantages – there's a sea view sitting room with an open fire, and even a bar.
You'll get a very good breakfast (continental in style) and even a hot water bottle sent up to your room if you're feeling stiff after a day out walking. Family-friendly, pet-friendly and moderately-priced, this spotless guesthouse is a delightful place to stay in a beautiful area. And, if you visit in early summer, you may just hear the cuckoo too.
Just along the shore road towards Galway, Armin and Bernadette Grefkes' attractive purpose-built accommodation makes a comfortable and moderately-priced base for a break in this lovely area and it is a delightful place to stay. Being a little outside ...
more...
---
Show me all 2013 Award Winners