2013 Award Winners HIDEAWAY OF THE YEAR 2013
Moy House, Lahinch, Co Clare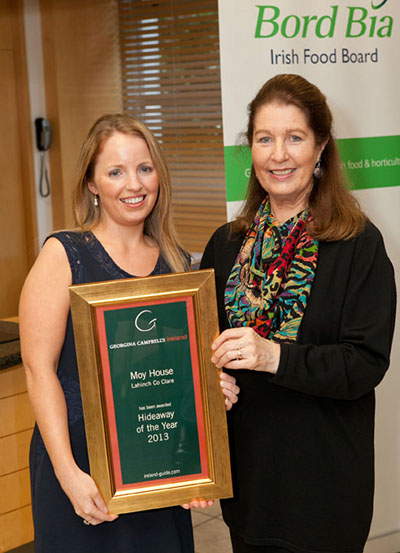 Everyone loves the idea of a hideaway, and this is one of our most popular awards. Whether it's the establishments itself which offers that sense of privacy and seclusion, or its location, there is something very appealing about a place that you can disappear to and escape everyday pressures.
The west coast has timeless appeal as a place to get away from it all, and this gorgeous country house overlooking Lahinch Bay ticks all the right boxes as a hideaway…. warm and welcoming, with an open fire and fresh flowers in the hall, a spiral staricase and a deliciously decadent drawing room to relax and take in the view, it's as atmospheric as get out and downright luxurious to boot.
Most of the stylishly, sumptuously appointed bedrooms have sea views and the main rooms are wonderfully spacious, some with canopy or four-poster beds; one extra-luxurious suite even has a private conservatory overlooking the Atlantic - the ultimate hideaway!
All this and good food too, it's nothing short of an occasion of sin.
This stunning house just outside Lahinch was our Country House of the Year in 2003 and, although many new properties have opened since then, it remains one of Ireland's most appealing (and luxurious) country houses and is run with warmth and efficiency ...
more...
---
Show me all 2013 Award Winners