2011 Award Winners HOTEL OF THE YEAR 2011
Kelly's Resort Hotel, Rosslare Strand, Co Wexford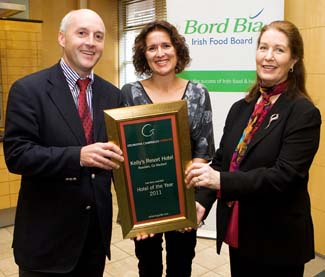 "Given their high level of constant and well-considered marketing, it would be impossible for anyone interested in travel in Ireland to be unaware of Bill and Isabelle Kelly's icon of the sunny South-East.
Known, with good reason, as 'the hotelier's hotel', this renowned beachside haven offers a special brand of relaxed professionalism that is particularly appreciated by others in the hospitality industry when taking their well-earned breaks – and, if it is so highly regarded by those who would potentially be its harshest critics, no wonder Kelly's also has a huge and dedicated fan base amongst the wider public.
Three centuries of practice undoubtedly helps in this hands-on family business, and the offering has been finely tuned over the years, to please all ages and varying tastes.
Many would visit simply to admire the renowned art collection, for example, while others especially enjoy the outstanding leisure facilities or the sandy beach – and everyone enjoys the contrasting dining experiences offered in Beaches (fine dining) and La Marine (bistro), and the music that rounds out the evening after dinner.
Long-serving executive chef Jim Aherne retired earlier this year, and is much missed – but the change was well-planned, with former head chef of La Marine, Eugene Callaghan, taking over the position; despite the big change from the youthful style at La Marine to the much more classical approach at Beaches, he seems to have moved seamlessly into the new role – just as Ronan Dunne has moved up into his position as head chef of La Marine.
And the hotel's celebrated wine list is not only a wonderful partner to the good food offered, but also provides the starting point for some of the many (and varied) special interest breaks that are a highlight of the off-season.
Accommodation, while not new, is smartly maintained and the wonderful staff attract constant praise ('perfectly groomed and well-trained – thoughtfulness second nature, as if it's bred into them').
We are blessed with a good number of outstanding hotels in Ireland and Kelly's Resort Hotel is unquestionably one of the very best – and recession seems to hold no fears for them, as their varied offering, commitment to high standards and personal attention in every aspect of the business ensures a high level of repeat business and a constantly growing base of new converts."
With its special brand of relaxed professionalism, the Kelly family's renowned beachside hotel sums up all that is best about the sunny south-east for many regular visitors. Perhaps it's because its history in the same family spans three c ...
more...
---
Show me all 2011 Award Winners