2010 Award Winners HOTEL OF THE YEAR AWARD 2010
The BrookLodge & Wells Spa - Macreddin, Co Wicklow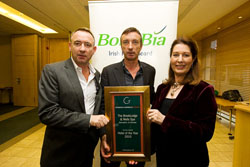 Numerous strands make up this complex operation – but, as you sense from the bright helpful staff and an atmosphere of care about the place, this very special hotel is more than the sum of its parts.
Thanks to the vision of three brothers, Evan, Eoin and Bernard Doyle, a new "village" now exists on the site of a deserted one in a Wicklow valley - and they have devised many reasons for people to go there, including a Paul McGinley golf course and an equestrian centre amongst the many outdoor activities, and a Resort Spa.
Weddings and events are key to its success, but kept completely separate from the main hotel, where there is a relaxed country house feel and a choice of dining in Ireland's only certified organic restaurant, The Strawberry Tree, in atmospheric La Taverna Armento (there's a whole story attached to that restaurant too, and its close links with a village in Italy) or, in theconvincingly old-world Actons pub on their little 'street' - anyone who remembers Evan's original Strawberry Tree bar & restaurant in Killarney will recognise the skill at work here.
A former winner of the Guide's Natural Food Award (in association with Euro-Toques, in 2003), BrookLodge has earned national recognition for its strong position on organic food - and their organic food markets are legendary.
Having worked hard to maintain high standards stay in the frame during this difficult year, it's a great tribute to the Doyle brothers and their team that so many people still think it's a good idea to head down to Wicklow for a break these days: they are to be heartily congratulated.
Macreddin Village

,

Co. Wicklow
Distillery/Brewery / Farmers/Country Market / Hotel / Pub / Restaurant / Speciality Store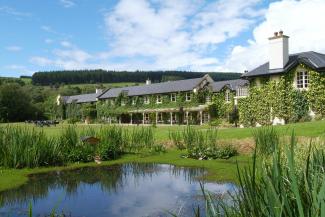 Built on the site of a deserted village in a Wicklow valley, this extraordinary food, drink and leisure complex exists thanks to the vision of three brothers, Evan, Eoin and Bernard Doyle. Below we outline the various strands that make up this very co ...
more...
---
Show me all 2010 Award Winners