2012 Award Winners "JUST ASK" RESTAURANT OF THE YEAR AWARD 2012
Farmgate Cafe - Cork City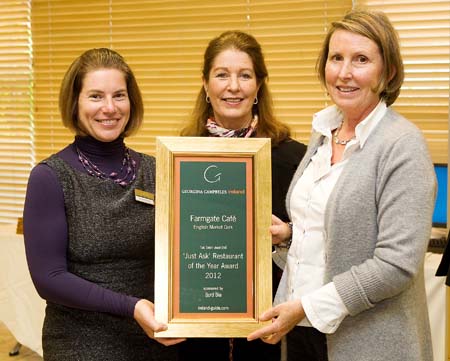 "Just Ask!" is a public awareness campaign that aims to encourage consumers when eating out to look for information on where the food (particularly meat) on their plate comes from, and encourages chefs to provide this information on their menus. The programme supports both large and smaller artisan suppliers, encouraging both Irish diners and visitors from abroad to support restaurants that are in turn supporting their suppliers. The Bord Bia

"Just Ask!" Restaurant of the Year Award

has been chosen from the year's winners selected for our monthly e-zine.
Since opening in 1994 – well before most restaurateurs in Ireland thought it might be popular or profitable to focus on local produce and traditional dishes – Kay Harte's café above the English Market has epitomised everything that is best about simple, wholesome, fresh Irish food that has travelled as short a distance as possible to reach the plates of their happy customers. Farmgate Café only uses beef, lamb, chicken, eggs and vegetables produced in Ireland and, as virtually all ingredients are purchased from the market downstairs daily, or from other trusted suppliers nearby, it doesn't come much fresher or more local than this.
Traditional, seasonal, regional, even 'forgotten' foods are at the core of the Farmgate ethos, forming a visible link between the menu and the wonderful array of produce downstairs. "And", explains Kay, "Against the backdrop of a bustling market, freshly shucked oysters are brought straight to the dining room table from the fish stall downstairs (it is worth the wait!). Cork cheese-makers deliver directly to the market and the café. Our meat, locally reared, comes from trusted craft butchers in the market. Our honey is from West Cork, and our salad leaves come from two organic farms also in West Cork. Embracing a simple, strongly regional and uncomplicated menu, our food is locally produced, then cooked and presented simply."
It simply doesn't get clearer or more genuine than that:
Farmgate Café
sums up all that Just Ask is about – and then some.
A sister restaurant to the Farmgate Country Store and Restaurant in Midleton, Kay Harte's Farmgate Café shares the same commitment to serving fresh, local food - and, as it is located in the gallery above the English Market, where ingredients ar ...
more...
---
Show me all 2012 Award Winners