Irish Breakfast Awards 2014 NATIONAL WINNER IRISH BREAKFAST AWARDS
Newforge House, Magheralin, Co Armagh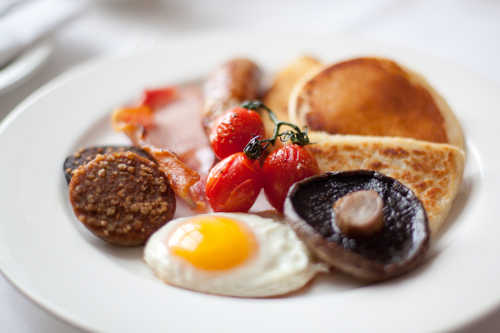 We all know that breakfast is the most important meal of the day and this is true in hospitality as well as 'real life'. It's an area that can be - and often is - a USP, both for the breakfast itself, and because the spirit of generosity and true hospitality, that giving so much more than the basic requirement implies, is carried through into all other aspects of these special places.
Breakfast is the last meal guests will have before leaving any place where they have stayed the night, and the memory will linger – and the last before paying the bill, so it can sweeten the departure process too. While offering a good selection is important in larger establishments, eg hotels, we rate quality, freshness and careful preparation more highly than a large choice; small details can count for a lot, eg an otherwise excellent breakfast can be spoilt by commercial orange juice - nothing can match freshly squeezed juice and even premium products are always a disappointment.
Like their delicious dinners, breakfast at this lovely country house is presented with stylish simplicity and with friendly, professional service to match. You'll waken to the aroma of baking breads and pastries, and a tempting array of juices (including local apple, as well as freshly squeezed orange), fresh fruit salad, organic yoghurt and other goodies greets you in the the dining room.
The rare breed chickens pecking around the orchard provide fresh eggs for a range of hot dishes including as good an Ulster Fry as you will find anywhere - including Moyallon dry cured back bacon (from the famed Hannan Meats in nearby Moira), outstanding sausages - Maddens' perhaps - black and white puddings, ripe tomato and a selection of terrific baked goods including, of course, that Ulster classic - potato bread.
Other choices include Walter Ewing's smoked salmon with scrambled egg, omelettes, or pancakes, and a vegetarian option is also offered. And lovely homemade preserves with your toasted breads of course - all round delicious.
In the Mathers family for six generations, John and Louise Mathers's lovely Georgian country house is only a short drive from Belfast, and handy to both Belfast International and City airports and Ferry Terminal - yet, set in mature trees, garden ...
more...
---
Show me all Irish Breakfast Awards 2014