IRISH BREAKFAST AWARDS 2009 NATIONAL WINNER
Lisloughrey Lodge

Breakfast is often the least enjoyable part of a hotel stay and, all too often, can obliterate the memory of an enjoyable meal the evening before – not so at a growing number of caring and 'breakfast aware' hotels, however, including this beautifully located hotel in the grounds of Ashford Castle.

It has wonderful views over Lough Corrib and Lisloughrey Quay from the first floor restaurant, where head Chef Wade Murphy not only knocks guests for six with his stunning dinners – but, unusually, makes a point of being there in the morning too.

This talented and dedicated chef believes as strongly as we do that serving a really good breakfast is vitally important, so the food that guests enjoy here each morning is just as impressive as everything else served in this excellent restaurant.

True excellence.




Set in the grounds of Ashford Castle, with which it has been in common ownership since early 2014,The Lodge enjoys one of the most beautiful locations in Ireland, with views down Lough Corrib and, adding interest in the foreground, Lisloughrey Quay wit ...

more...
---
Park Hotel Kenmare - County Kerry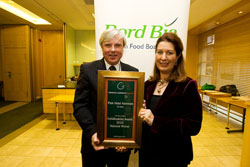 Nobody understands the importance of attention to detail better than the Brennan brothers, stars of RTE's quirky 'hospitality hospital' programme, 'At Your Service'.
Legendary in the hospitality world for the exceptionally high standards that they not so much insist on as nurture at Park Hotel Kenmare, the Brennans have faced the same challenging conditions as everyone else this year and they have had to work creatively to attract business.
Prices have tumbled – from the consumer angle I have to admit we were more relaxed, and enjoyed our stay (and departure) more than usual this year, as the bill was considerably lower – but standards have not. Economies have had to be made of course, but not in any way that would adversely affect the guest experience. There is perhaps less choice on the dinner menu, but the quality of both food and service is outstanding.
John mentioned the cost of soap wastage, saying they've reduced the size from 50g to 25g, but that's unlikely to have sparked complaints. And they certainly haven't gone the way of so many hotels and cut corners on breakfast, which remains the same, exceptionally satisfying way to start the day as it ever was: superb food, excellent service and well-judged timing so it doesn't take up the entire morning.
Let's hope the topic comes up at one of their 'At Your Service' 'guinea pig' hotels – there are plenty out there who would do well to listen.
Even the most jaded traveller would have to agree that a stay at this renowned hotel is always a treat. With a magnificent waterside location in the midst of Ireland's most scenic landscape, it has views over gardens to the ever-changing mount ...
more...
---
Show me all IRISH BREAKFAST AWARDS 2009