2007 Award Winners NATURAL FOOD AWARD 2007
Farmgate, Midleton, Co Cork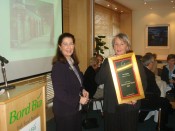 This is the older sister to Kay Harte's Farmgate Café - since 1983 Maróg O'Brien has been delighting visitors to Midleton town and consistently pleasing a happy band of dedicated followers, who love both the shop at the front, which is full of wonderful local produce (organic fruit and vegetables, cheeses, honey), carefully selected speciality foods and their own delicious home baking – which also stars in the stylish-informal restaurant behind the shop.
How refreshing to know that Farmgate 'is committed, even more so, to fresh, seasonal local produce – we absolutely believe in handling only produce in season'. Not a lot of food miles being notched up here then – and Maróg is a founder and stall holder of the hugely successful Midleton Farmers Market too:
the perfect role model for hundreds of small owner-run restaurants around the country
.
This unique shop and restaurant has been drawing people to Midleton in growing numbers since 1985 and it's a great credit to sisters Marog O'Brien and Kay Harte. Kay now runs the younger version at the English Market in Cork (see entry), wh ...
more...
---
Show me all 2007 Award Winners