2011 Award Winners NATURAL FOOD AWARD 2011
Boyles of Dromore - County Down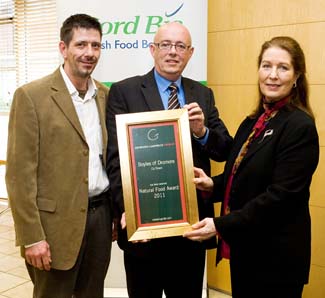 This award recognises an individual or team, driven by a total commitment to using the very best of fresh, seasonal and mainly local foods – and preparing them simply and with style, to showcase their natural goodness and the quality produce of the locality.
A charming old bar and restaurant in Co Down may seem an unlikely place to find "World Class Food and Wines at affordable prices" but that is the promise from the dedicated team who run this delightful place – and, if you can spare a few moments to look at their website sometime, you'll find many, many reasons to head straight up north and sample their fare.
There are more reasonably priced menus offered, of course, but their £45 Taster Menu gives a true idea of what's special about these people – all ingredients are selected for quality and local production; every county in Northern Ireland is represented and the menu is headed up by a county-by-county analysis of the products used, and their origins.
It's an inspiring read, and the menu that follows is positively mouthwatering – especially if you're lucky enough to have experienced the cooking, which is outstandingly good (but not at all 'cheffy'), with respect for ingredients coming first to make appealing dishes with great flavour and attention to detail.
This superb food is combined with genuine hospitality – and, as promised, affordable prices. We are delighted to present the Natural Food Award 2011 to Boyles of Dromore, Co Down.
---
Show me all 2011 Award Winners