2007 Award Winners NEWCOMER OF THE YEAR 2007
Sha-Roe Bistro, Clonegal, Co Carlow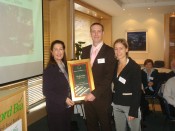 Visitors to the pretty village of Clonegal ("on the road to nowhere, on the border of Carlow and Wexford…") have treat in store, as this is where Henry Stone and Stéphanie Barrillier chose to set up their beautifully appointed little restaurant, which is in an immaculately maintained 18th century building of warmth and character.
Henry, who was formerly head chef at Marlfield House and had already a earned a keen following in the area, is an exceptionally talented chef and this delightful spot is definitely worth a detour – both for Henry's delicious seasonal menus and outstanding cooking, and for the place itself and an atmosphere of relaxed efficiency created by Stephanie and her front-of-house team.
Our shortlist for Newcomer of the Year was exceptionally strong this year, and it is a great pleasure to hand the title on to such
an outstanding little restaurant
.
Away from the main road to anywhere, the pretty and well-preserved riverside village of Clonegal is on the borders of Wexford, Carlow and Wicklow. And here, in a fine 18th century building, you will find Henry and Stephanie Stone's small but beautifull ...
more...
---
Show me all 2007 Award Winners