2010 Award Winners GEORGINA CAMPBELL AWARD 2010
Nick's Warehouse - Belfast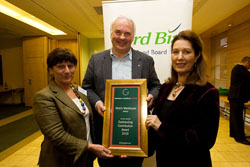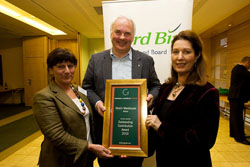 A new award, in recognition of the special contribution made by exceptional individuals in Irish hospitality.
It's hard to believe that Nick and Kathy Price are celebrating 20 years in business this year, it's all so fresh still – and yet the changes since then have been immense, in Northern Ireland generally, and also in their particular area of Belfast.
The restaurant was originally a whiskey warehouse (built for Bushmills Whiskey in 1832), and when they opened here over 150 years later they were very much the culinary pioneers in this now popular area of the city – their staying power and longterm success is not only a great credit to them, but has been an inspiration to countless others.
This was Belfast's first wine bar and, while the layout has changed little and the philosophy not at all, wine is an even more important element of the mix these days than it originally was, as they now have their own wine business.
The style is lively and contemporary, with menus depending on the fresh produce available from a network of trusted suppliers and often including unusual local items, and game in season – and consistency is a key feature (head chef Sean Craig has been at Nick's since 1996).
Nick Price does a lot for the food scene in Belfast, including being generous with his time; he supports numerous food initiatives, and is Chairman of the Taste of Ulster group.
There's a sense of fun about this place ("Why not try one of our 'Seductive Money Saving Offers' pudding and a glass of dessert wine or cheese with port") so it's no wonder that Nick's has a loyal clientèle who love the good food, attentive, friendly service and the buzz.
To celebrate the completion of their second successful decade in business, their first cookbook is due in December – and, like Nick's sister, Sue Farmer of The Bay Tree in Holywood, Nick and Kathy are publishing it themselves. We look forward to it – and, perhaps, to a follow-up volume in 10 years time!
---
Show me all 2010 Award Winners