2012 Award Winners OUTSTANDING SERVICE AWARD 2012
Chapter One Restaurant, Dublin 1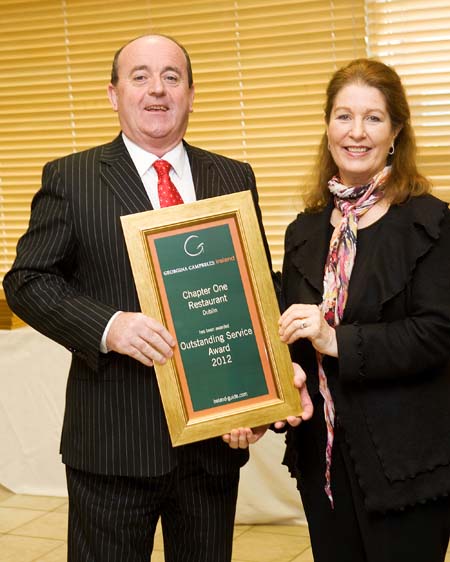 There has been plenty of hype about star chefs in recent years but, without the support of a good front of house team, the work done in the kitchen is doomed to disappoint – and the same applies to establishments offering accommodation, where teamwork is essential to success. In their excitement to establish their dream business, many newcomers to hospitality overlook the importance of staff training and good management – and a disappointing number of long-established businesses, worn down perhaps by several years of cutting costs, seem to have forgotten the essentials of good service that underpin every truly successful establishment.
Our Restaurant of the Year way back in 2001 remains an excellent example of best practice in every area. Naturally enough, the food attracts most recognition - and why not, when the chef-patron Ross Lewis (a former Euro-Toques Commissioner General) is held in such esteem that he was invited to cook the State Banquet given on the occasion of Queen Elisabeth's historic visit to Ireland; a hymn to quality Irish produce, it was received with acclaim.
But the co-proprietor of Chapter One is front of house manager, Martin Corbett, and there has always been an equal emphasis on service. An exceptional team includes restaurant manager Declan Maxwell and sommelier Edward Jolliffe, who joined in 2010, and, from the moment of greeting at the door (where returning guests are invariably addressed by name), superb service from friendly, enthusiastic and well-informed staff, who deftly anticipate every diner's needs, ensures that the kitchen team's exquisite modern Irish cooking will be enjoyed at its best.
Throughout the recession,
Chapter One
restaurant has always remained busy – and it is easy to see why.
In the former home of the great John Jameson of whiskey fame, and one of the leading Dublin restaurants, Chapter One was our Restaurant of the Year way back in 2001 when everybody thought southside was the place to be. Since then many others ha ...
more...
---
Show me all 2012 Award Winners