2007 Award Winners PUB OF THE YEAR 2007
The Roundwood Inn, Roundwood, Co Wicklow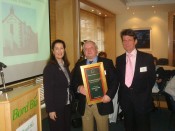 Modern gastro-publicans eat your hearts out: there's nothing new in all this at all, as the owners of this atmospheric 17th century inn in the highest village in the Wicklow Hills could tell you – they've been offering superb (and unusual) food here for over 30 years. It's a characterful place, with a public bar at one end - with a snug and a fire – and a restaurant at the other.
But the heart of the building is the large central bar, with its ever-burning log fire in the huge open fireplace and big sturdy tables that leave newcomers in no doubt that food is at the heart of this operation.
Head chef Paul Taube has been in the kitchen here for over two decades, and the style that he and the proprietor, Jurgen and Aine Schwalm have developed over the years is their own unique blend of Irish and European influences: excellent bar food includes seafood from the west coast and Greystones harbour - Galway oysters, fresh crab and lobster salads, shellfish bisque - and foods from the local area such as smoked Wicklow trout, and hearty hot meals, notably Wicklow venison ragoût, and the delicious house variation on Irish stew.
Long before it was fashionable, this was just the way things are done at the Roundwood Inn; unlike many of those johnny-come-lately 'gastropubs' the food has real character and this, together with the place itself and its own special brand of informal hospitality, has earned the Roundwood Inn a very special reputation with hillwalkers, Dubliners out for the day and visitors alike.
Our family has many happy memories of Roundwood – going back to a wedding for just 17 guests in the 1970s - and it's as fresh and restorative today as it ever was; it's much more than just a pub in the usual sense, but a long-established, consistently excellent role model for today's aspiring gastro-publicans.
Jurgen and Aine Schwalm have owned this atmospheric 17th century inn in the highest village in the Wicklow Hills since 1980 and their caring hands-on management, backed up by dedicated long-serving staff, has earned this unique bar and restaurant a lot ...
more...
---
Show me all 2007 Award Winners