2011 Award Winners PUB OF THE YEAR 2011
Hargadon Bros - Sligo Town Co Sligo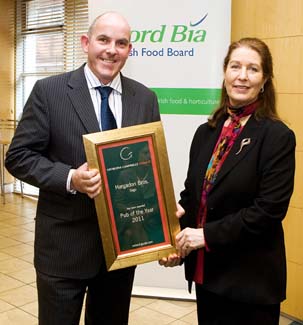 "Much to the delight of its many fans, this famous and much-loved traditional bar in the north-west re-opened recently, following a long closure during which there was much speculation about possible redevelopment…
But there is Hargadons now, in all its glory, a listed building in the centre of Sligo Town dating back to about 1850, restored and renovated but with all its snugs and fires and grocery shelves intact (and the marble counter cleaned and back in place) – and still offering the same warm welcome.
And then there's the food. Joe Grogan – well known in the locality for his recent time drawing discerning foodies out to Rosses Point – & his wife chef Miriam Harte are doing a great job in the kitchen of this fine old pub, offering skilled modern cooking on an enticing all-day menu, with freshly made soups and lunchtime specials that include warming casseroles, fresh fish, vegetarian options and gorgeous desserts (including the best brownie ever, which is simply delicious with raspberries and cream…), scones, tasty tarts and cakes in the afternoon, and they are also open for food every evening except Sunday.
The old-world ambience of this old friend in the centre of Sligo Town, plus quality ingredients well cooked, stylish modern presentation, and lovely service from smartly dressed staff all make for a really enjoyable visit here – and not only is the quality of the pint beyond question, but you might get some traditional music too."
This famous and much-loved traditional grocery-bar in the centre of Sligo Town, is a listed building dating back to 1864 – and, having previously had only two owners (the original builder, and then the Hargadon family who gave it the current name ...
more...
---
Show me all 2011 Award Winners