2008 Award Winners RESTAURANT OF THE YEAR 2008
Deanes Restaurant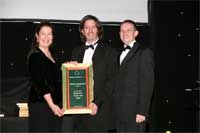 A highly coveted award - for restaurateurs, chefs and front of house staff – this category attracts an exceptionally diverse range of establishments, ranging from bustling city restaurants to tiny places in the country, and selection is always difficult.
But, when Michael Deane is in the frame and making changes, the scale is different from other restaurants – this former major award winner (Restaurant of the Year in 1999, Chef of the Year 2001) has always been ahead of the posse, and has several times demonstrated his unerring instinct for understanding the changes in consumer demand before anyone else.
Recently, devoted followers of Northern Ireland's most exceptional dining experience, Restaurant Michael Deane, feared the worst during the recent closure of both the brasserie and fine dining restaurant – and, unsurprisingly, the rumour machine went into overdrive, predicting the imminent demise of this esteemed chef's business. But, following a major makeover, the two former city centre hot spots emerged, transformed into one elegant fine dining restaurant - how Mr Deane must now be smiling at his doubters as, once again, he has established himself as one of Ireland's foremost chefs and restaurateurs.
The renovations have in no way compromised on comfort, and smart, attentive and knowledgeable staff provide unobtrusive professional service while, behind the open kitchen service hatch, head chef Derek Creagh works his magic, and what magic! And, as always, the ever-present Deane meticulously controls the pace of events and timing of food to perfection.
The new restaurant certainly marks a departure from the more formal style of Restaurant Michael Deane - it is more open and airy, and extras such as the Menu Prestige, amuse bouches and pre-desserts are no longer offered; however, this in no way makes the dining experience any less enjoyable and cooking by Deane and Creagh remains the yardstick against which all serious cooking in Northern Ireland and, indeed, further afield should be judged - and, as always, the discreet advice given to match wines with the food is outstanding.
Only Michael Deane would even think of attempting what has been achieved with aplomb at this acclaimed city centre venue. Deservedly hailed as Northern Ireland's premier restaurateur for many years, chef Michael Deane's Howard Street venu ...
more...
---
Show me all 2008 Award Winners