2014 Award Winners RESTAURANT OF THE YEAR 2014
VM Restaurant at Viewmount House, Longford Town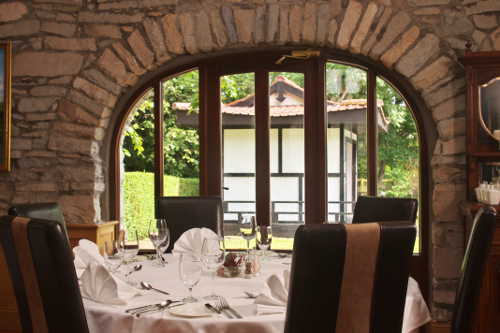 Smart-casual dining may be very on-trend, but fine dining is far from dead. This year's awards shortlist proved yet again that many of the country's most creative chefs are continuing to produce sublime classical food in the fine dining style – and the Restaurant of the Year is an exceptional example.
This is a restaurant which is much more than the sum of its parts. Since opening in 2008 it has made a midlands town a destination for food lovers throughout Ireland, and beyond - changing the image of the area and creating employment, both directly and indirectly.
Its' setting, in four acres of beautiful wooded gardens, is lovely and the gardens alone merit a visit. Suppliers are credited with pride and the cooking is outstanding, with all the little niceties observed - yet the best thing about this elegant and atmospheric restaurant is that it's in no way intimidating.
Classically linen clad tables, professionalism and smart service are tempered by warmth and friendliness, so the atmosphere is relaxed and welcoming, and everything - the menus, cooking style, presentation, portion sizes, pricing - is perfectly judged to please local diners just as much as those who have made it a destination.
The teamwork is exemplary and any visit to this delightful restaurant is sure to be a memorable experience. This is fine dining with a difference and its success is well deserved.
James and Beryl Kearney's lovely 1750s Georgian house just on the edge of Longford town was once owned by Lord Longford, and is set in four acres of beautiful wooded gardens, designed as a series of rooms. It really is a delightful house and has ...
more...
---
Show me all 2014 Award Winners