2014 Award Winners SEAFOOD CHEF OF THE YEAR 2014 SPONSORED BY BIM
Michael O'Meara, Oscars Seafood Bistro, Galway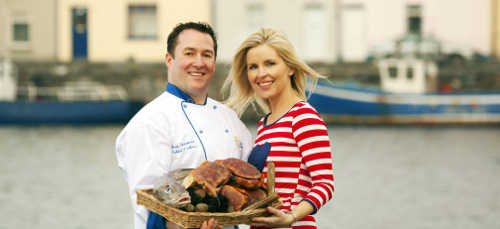 Great seafood cookery takes a special expertise - and a growing number of talented Irish chefs are happy to take up the challenge.
Delighting diners with wonderfully creative seafood cooking since 2000, this Euro-Toques chef bases his menu on the day's catch and the most local and seasonal of ingredients. Although visitors may be bemused by the theatrical décor, the food will please all comers with its accomplished techniques, smart accompaniments and great saucing.
While some seafood imports are also used, fish comes mainly from Stephane Griesbach's highly regarded Gannet Fishmongers, who source most of their fish locally from the Galway and Aran Fishermen's Co-op in Rossaveal. Speciality seafood dishes include a tapas platter and a main course of grilled Bearna lobster served on seaweed, with garlic and lemon butter. Imaginative side vegetables include samphire, leek, peas and beans - a delicious vibrant green treat.
Even fish and chips is given star status, perhaps featuring octopus in a gram flour batter with Maris Piper chips and a sundried tomato and caper mayonnaise. Showcasing the finest of local seafood, this bustling city restaurant offers some of the best fish cooking in the country; the good value and charming service from mostly local staff are a bonus.
Since 2000, Euro-Toques chef Michael O'Meara has been pleasing diners with his wonderfully creative cooking at his seafood restaurant in the city centre. Together with his wife, Sinead Hughes, they've created a Galway favourite, just a coup ...
more...
---
Show me all 2014 Award Winners