2010 Award Winners SEAFOOD CIRCLE BAR OF THE YEAR 2010
Kealys Seafood Bar - Greencastle Co Donegal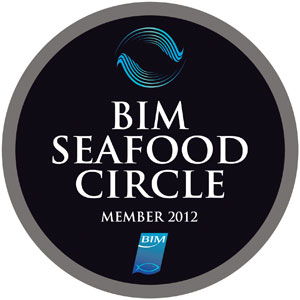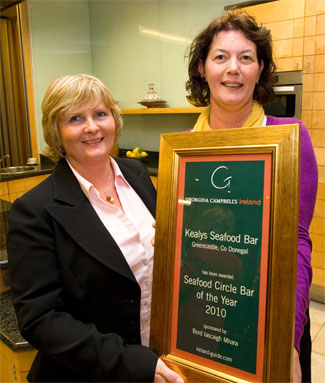 Kealys Seafood Bar is right on the harbour at the Donegal fishing port of Greencastle – perfectly positioned for people travelling on the ferry between Greencastle and Magilligan Point in Northern Ireland.
It's a friendly, low-key little place where simplicity has always been valued and, even if it's just to pop in for a daytime bowl of Tricia Kealy's Greencastle chowder and some home-baked brown bread or 'James's baby brown scones', fans will never miss the opportunity of a visit to Kealys - if we did an award for seafood chowder, Kealys would take the prize!
Like her late husband James, who cooked here for many years, Tricia's approach to seafood is creative and balanced, seen in dishes, which are modern in tone but also echo traditional Irish themes, and in which delicious local organic vegetables are used with fish to make the most of both precious resources.
Breads are a speciality - perfect partners for Irish farmhouse cheeses, as well as the famous chowder. Simple, and delicious.
The ferry between the fishing port of Greencastle and Magilligan Point in Northern Ireland brings many new visitors to an area that used to seem quite remote - and those in the know plan their journeys around a meal at Kealys excellent seafood restaura ...
more...
---
Show me all 2010 Award Winners