2010 Award Winners SEAFOOD CIRCLE RESTURANT OF THE YEAR 2010
Ahernes Seafood Restaurant - Youghal County Cork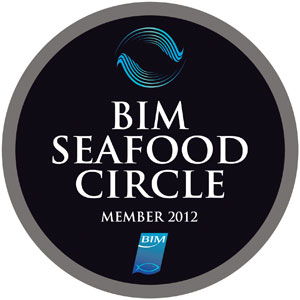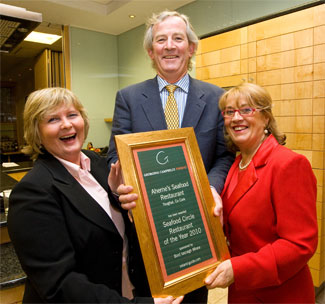 The BIM Seafood Circle is a programme highlighting the best places to buy fresh fish, and to dine out on seafood. The hospitality element endorses good seafood restaurants offering a high proportion of indigenous Irish seafood with a bias towards seasonal local fish and shellfish. A second element of the programme focuses on retail outlets.
The FitzGibbon family's renowned East Cork bar and restaurant with accommodation is a big magnet for seafood lovers and they are previous winners of the Seafood Bar of the Year Award. However, while many casual diners are happy to drop in for a bite of their excellent bar food, the restaurant has come into special focus this year.
Following a revamp, the elegant restaurant has emerged with a calm, sophisticated and romantic atmosphere – and David FitzGibbon's cooking is right on form. Outstandingly good breads set the standard from the outset and are brilliant with local Yawl Bay smoked salmon – and, although there are other choices (roast lamb, fillet steak), it's for the ultra-fresh seafood that comes straight from the fishing boats in Youghal harbour that Aherne's is rightly known, and it's pointless to resist.
A wide range is offered, including treats like hot buttered lobster, and their famous Hot Seafood Selection with two sauces; but also, more frequently these days, David is offering whole fish cooked on the bone: classic sole on the bone, of course, but also others - a dramatic whole seabass, perhaps, complete with head and curling tail.
Perfectly cooked fish and classic saucing are the hallmarks – but servings are impressively generous too, a point which won't go unnoticed in these budget-conscious times. Lovely service, a good wine list and and good classic desserts too – and, for overnight guests, an excellent breakfast to round off the stay
Now in its third generation of family ownership, Aherne's is outstanding for the warmth of the FitzGibbon family's hospitality and their enormous enthusiasm for the business which, since 1993, has included some fine accommodation. But it is ...
more...
---
Show me all 2010 Award Winners