2007 Award Winners SEAFOOD RESTAURANT OF THE YEAR 2007
Fishy Fishy Café, Kinsale, Co Cork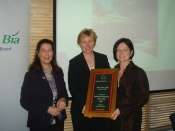 Still in Co Cork, we move west to Kinsale. Martin and Marie Shanahan's original Fishy Fishy Café was our Seafood Restaurant of the Year in 2001, when we noted that it was "the first of a new breed of restaurant, where produce and the customer actually meet before the chef has a part in it" – and so successful has the concept proved that this year they've added to the original restaurant and wet fish bar, with the opening of their keenly anticipated Fishy Fishy Café mark two, nearby.
The new premises is on two levels with tables outside shaded by seriously businesslike continental style parasols; previously an art galler,y it's a very big restaurant, by West Cork standards, yet there's hardly been a quiet moment in their first summer of opening – and no wonder, as the Shanahans' reputation for offering the widest possible range and freshest of fish is unrivalled throughout Ireland. As one of our assessor's reported back after a wonderful meal: "there's only one word for the fish here, whether sole, hake, tuna, black bream or whatever: that word is superb".
And they remain true to their original style at Fishy Fishy, which is almost as famous for its celebrity spangled queues as for the fabulous fish – no reservations are accepted, so get there early or be prepared for a long wait.
Sponsored by
Bord Iascaigh Mhara
Martin and Marie Shanahan's Fishy Fishy Café mark two is a very big restaurant, by West Cork standards, yet they've been full to capacity at peak times ever since moving their main restaurant to this almost-harbourside location in 2006. Nearby, ...
more...
---
Show me all 2007 Award Winners