2014 Award Winners TASTE OF THE WATERWAYS AWARD IN ASSOC WITH WATERWAYS IRELAND
Watermill Lodge, Lisnaskea, Co Fermanagh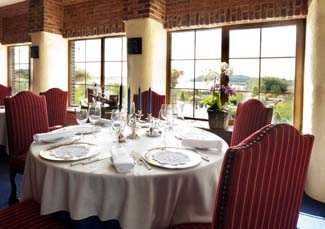 Since 1999 GCGuides has produced an independent guide to the best places to eat and drink along Ireland's waterways. With the support of Waterways Ireland in recent years, it has developed to include accommodation and Things To Do Along The Way, presenting the waterways as an amenity for all to enjoy and not just boating folk. The Taste of the Waterways Award brings an unusual element to the Guide's selection, highlighting lovely and lesser-known watery parts of Ireland that are a joy to explore – and with plenty of interesting pubs, restaurants and places to stay.
Visitors to Lough Erne may be surprised to find this impressive waterside restaurant. Owned by a French chef and fishing enthusiast and his Irish partner, the striking thatched building is full of French character and the food is equally unusual: described as 'Irish with a French twist', accessibly priced set menus have local produce to the fore - notably homegrown vegetables and herbs - and premium ingredients including lobster, freshwater fish, local steaks and frogs legs (of course) feature on the specials menu.
Friendly, well trained and knowledgeable staff, both local and French, reflect the enthusiasm of the genial host and, while the style is less formal than in the earlier days, the cooking is better than ever. This is a great addition to the hospitality offered in this beautiful area - especially for visitors arriving by boat, who may have meals delivered to their cruiser while moored at the private jetty!
A visit here should be memorable for all - and you can stay overnight too, in very pleasing
Tucked away in the heart of County Fermanagh and spectacularly situated on the shores of Lough Erne, visitors will be surprised to find this impressive fine dining restaurant, which enjoys stunning views over both the lough itself and the lovely rollin ...
more...
---
Show me all 2014 Award Winners