2007 Award Winners WINE AWARD OF THE YEAR 2007
Ely CHQ, IFSC, Dublin 1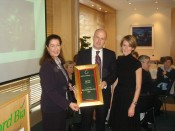 And now we move back to Dublin, and to a pair who have previously won the same award – but, in contrast to the cosy atmosphere of their original Dublin 2 premises, the style of their brave new northside venture on Georges Dock reflects the contemporary architecture of the IFSC rather than the history of the area.
There's an old building in there alright – most obviously in the vast vaulted basement area - although tables in greatest demand are in the bright, open ground floor space and a covered terrace. However, their successfully established theme of simple organic food appealingly presented (including meats from the family farm in County Clare) has been continued at the new venue.
But it is, once again, their great wine list – and, especially, an unrivalled choice of nearly a hundred wines offered by the glass - that makes Erik and Michelle Robson's new Ely such as exceptional dining destination – and another branch, Ely HQ, is due to open on the south quays very soon.
Erik and Michelle are to be congratulated on their courage and continuing enterprise in opening up a whole world of quality wine to an ever-widening public: great recipients (once again) of the Wine Award in 'the guide' 2007.
ely bar & brasserie in the IFSC (Customs House Quay) is a younger sister of the original Ely off St Stephen's Green (see entry); the style reflects the dashing contemporary architecture of the IFSC and the (very large) space includes an a ...
more...
---
Show me all 2007 Award Winners