2008 Award Winners WINE AWARD OF THE YEAR 2008
Ashford Castle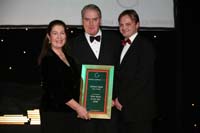 This year, establishments recommended by the Guide were invited to submit wine lists for competition and there were over 70 entries, ranging from the very grand to relatively simple lists; many of them were very interesting - including some short very but carefully chosen lists that matched menus in smaller restaurants particularly well.
In future we plan to expand the Wine Award to allow for different categories, but this year there is one overall award – and the wine expert taxed with the final selection said of the winner "This is a wonderful list, impossible to beat - and judging by the vintages offered the wines are turning over, and no bottles are being left in a cellar for years unsold. The prices represent the quality of the wines but they are not ridiculously over priced either, and it is no wonder that 'Wine Spectator' considered this wine list as one of the best in the world." It represents classic collector's wines from all over the world: the range of wines offered is huge with all the best classics, best vintages and best producers from the world's best wine producing regions.
This stunning list has been Robert Bowe's responsibility for nearly 20 years - during that time he has developed it from 250 listings to over 600, carefully sourced from about 15 suppliers. A series of winemaker dinners is held each winter (often involving Irish winemakers from around the world), there also are wines of the month, many wines by the glass, recommendations by the glass to accompany individual dishes, and nearly 40 half bottles giving great opportunity to experiment with tasting wines to suit specific dishes.
Ireland's grandest castle hotel, with a history going back to the early 13th century, Ashford Castle is set in 350 acres of beautiful parkland. Grandeur, formality and tranquillity are the essential characteristics, first seen in immaculately ma ...
more...
---
Show me all 2008 Award Winners
Apps and Books
Blackberry App

Quickly and easily find all the very best places to eat, drink & stay across the island of I ...

more...

iCook with Neven

Join Neven Maguire in the kitchen with 60 of his favourite recipes - old & new - on his very ...

more...