2010 Award Winners WINE AWARD OF THE YEAR 2010
Ballymaloe House - County Cork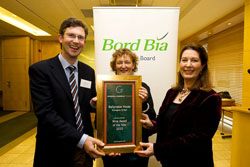 Irish interest in wine has grown phenomenally in recent years – how many people saw a glass of wine as the natural accompaniment to a meal even a couple of decades ago? Our wine award has reflected that developing interest, highlighting the diversity of the wine experience and celebrating some of the finest lists and most passionate people in the world of wine.
For several years establishments recommended by the Guide have been invited to submit wine lists for competition and there has been a great response, ranging from the very grand to relatively simple lists; many of them are very interesting - including some short very but carefully chosen lists that match menus in smaller restaurants particularly well. At the moment there is one overall award and, when times improv,e we plan to expand the Wine Award to allow for different categories.
Last year's Wine Award went to a young establishment and its brilliantly wine-focused creator - this year, by contrast, we have a wine cellar and list that has built up gradually over 45 years and developed into a holistic wine experience.
It all began with the late Ivan Allen, when he and Mrs Myrtle Allen opened Ballymaloe in 1964 (a year marked on the current wine list by Chateau Canon 1964); since then a number of equally dedicated and knowledgeable people have developed the wine offering and – in tune with the educational philosophy of Ballymaloe as a whole – wine events are now held on an almost weekly basis throughout the year, including visits by many guest experts such as the enormously popular twice-yearly intensive wine weekends with wine writer Mary Dowey – to be held next time in Ballymaloe's beautiful new music venue, The Grainstore.
Current Sommelier, Colm McCan (described off-the-record by a colleague as 'simply mad about wine') revels in the job and has overseen development of the 'new' wine cellar, which is in the ancient rock foundation of the old castle and not only naturally temperature controlled, but atmospheric with it; lined with new wine storage bins made from Ballymaloe beechwood by Sacha Whelan, it is effectively spotlit and well worth a visit. (They also have a bank of practical Eurocave temperature controlled wine cabinets for dining room service.)
The list itself remains a work in progress and, with at least ten 'house recommendations' plus many other more specialised choices by the glass, an accessible one at that.
An experience to be savoured.
Ireland's most famous country house, Ballymaloe was one of the first to open its doors to guests when Myrtle and her husband, the late Ivan Allen, opened The Yeats Room restaurant in 1964. Accommodation followed in 1967 and since then a unique n ...
more...
---
Show me all 2010 Award Winners