2011 Award Winners WINE AWARD OF THE YEAR 2011
Kelly's Resort Hotel - Rosslare Strand, Co Wexford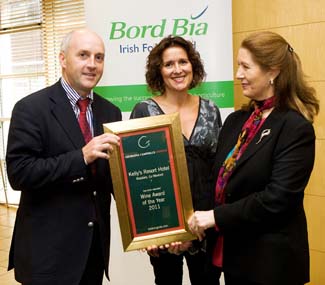 " 'Wow what a list!' commented our usually circumspect Wine Award judge, when reading the wine list from Kelly's Resort Hotel – and it comes with service to match too, from the sommelier and also the very knowledgeable owner.
It is a very accessible, well composed list of wines dominated by the French classical regions, with a smaller selection of very carefully chosen wines from other countries.
There is a clear introduction to each region, and all wines are meticulously described with excellent concise notes – and, in the case of Bordeaux, wines are listed according to their vintages with the characteristics and development of each vintage explained.
And there are actually two wine cellars at Kelly's Resort Hotel – one in the restaurant and a second in the bistro – underlining the serious value that they attach to their wines.
Proprietor Bill Kelly and his brother-in-law, Vincent Avril - who is a respected wine producer in the lower Rhone valley - visit the vineyards together with the wine team.
Thus they have first hand knowledge to recommend wines which, with very few exceptions, are directly imported – which enables Kelly's to offer very good value for money.
A useful hint to wine lovers when visiting Kelly's would be to ask to see the wine list ahead of dining, as the time allowed at the table may be too short to get full enjoyment from this gem of a list.
With its special brand of relaxed professionalism, the Kelly family's renowned beachside hotel sums up all that is best about the sunny south-east for many regular visitors. Perhaps it's because its history in the same family spans three c ...
more...
---
Show me all 2011 Award Winners