2013 Award Winners WINE AWARD OF THE YEAR 2013
O'Brien Chop House, Lismore, Co Waterford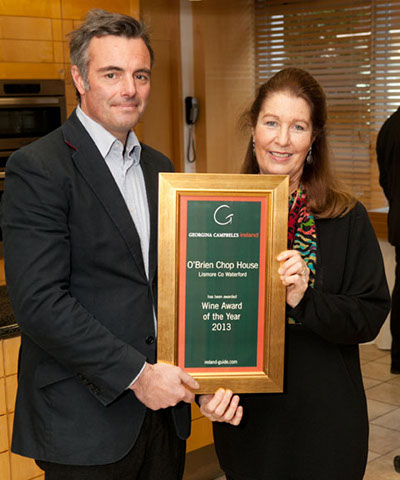 This is the only category of our awards for which we invite applications – interested establishments are asked to submit their wine lists for consideration, and they are then judged together with other aspects of the wine experience
Wine awards tend to go to pretty high-fallutin' establishments, but great lists are to be found these days in more accessible places and it's a very welcome trend. Take, for example, Justin and Jenny Green's delightful O'Brien Chop House in Lismore. This atmospheric little bar-restaurant has earned a national reputation for its ingredients-led cooking and, to match the super food, they offer an equally well-sourced and customer-friendly wine list – or, more correctly, drinks list, as it goes far beyond offering a range of wines and proves that excellence need not come in fat leather-bound volumes.
It's sensibly priced and, appropriately for an all day restaurant, offers something for all tastes and occasions – including the house special, Elderflower Fizz, a treat that changes by the season and might, according to availability become, say, rhubarb fizz or blackcurrant fizz, and can be made with prosecco or with sparkling water, as a refreshing non-alcoholic drink. A page of moderately priced wines offered in no less than four measures (glass, pitcher in two sizes and bottle) introduces a shortish list with all the hallmarks of a pleasurably considered personal selection.
But perhaps the best is kept until last as – reflecting the recent surge of craft brewing in Ireland – the list ends on a high note with craft beers and ciders including some excellent beers from Dungarvan Brewing Company and Eight Degrees Brewing, and artisan ciders from Nohoval Brewery, Kinsale and Longueville House, Mallow - all made in counties Waterford and Cork.
*** Sadly, we have learned that O'Brien Chop House will shortly close its doors, in Lismore at least. This will be a great loss, to the town as well as to those involved, but all the good things that have been said about the Chop House, including its excellent wine and drinks list, will hold true in whatever new location it may eventually pop up again – and will hopefully lead to its longterm success in a busier location.
---
Show me all 2013 Award Winners