2014 Award Winners WINE AWARD OF THE YEAR 2014
The Black Pig Winebar & Café, Kinsale, Co Cork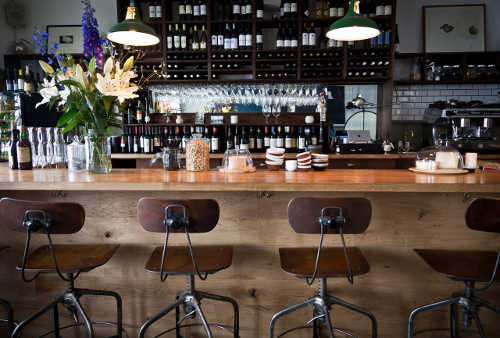 This is the only category of our Awards for which we encourage applications. While we also take note of other outstanding wine offerings encountered on our travels, interested establishments may submit their wine lists for consideration, and they are then judged together with other aspects of the wine experience.
Formerly of a famous Dublin wine bar, the couple (Siobhan Waldron & Gavin Ryan) behind this superb wine and artisan 'tapas' bar are hitting all the right notes in the Rebel County. Located in a picturesque 18th century coach house, it's simple, relaxed and atmospheric and that is part of the charm; the buzz is good, there's a glowing stove in winter and outdoor seating for fine weather.
The magnificent wine list includes a wide selection of organic, biodynamic and natural wines and, while there's not much information given, just ask. Equally welcoming whether you just want to drop in for a glass of wine, or have something to eat, the offering is unique and it is based on their wide range of wines - over 80 by the bottle, with over 40 available by the glass - and the best in locally sourced artisan food, served simply on boards, slates and platters (also limited hot food).
Cork greats like Frank Hederman, Milleens and Diva Boutique Bakery feature among the suppliers - with little or no cooking involved, the flavour of the assembled ingredients is key, and the combinations are a delight. Very agreeable.

A picturesque 18th century coach house in the heart of Kinsale provides the perfect setting for this relaxed and atmospheric wine bar. Opened in 2013, in a town already well supplied with good casual eating places, it hit the ground running - which say ...
more...
---
Show me all 2014 Award Winners