2011 Award Winners RESTAURANT OF THE YEAR 2011
L'Ecrivain - Dublin 2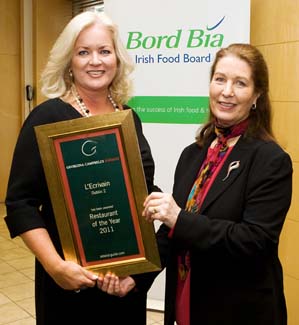 "Sallyanne and Derry Clarke's landmark Dublin restaurant this year celebrated its 21st year by bucking the trend and adding an extra twenty covers to the dining area - the sleek reconfiguration has resulted in a larger downstairs bar area furnished with comfortable sofas and tables, and a second private room upstairs which has access to the covered terrace and is in great demand.
Much loved for its combination of great cooking, superb hospitality and service from discreet, highly skilled staff, good value lunch menus have always been a feature here, ensuring a good buzz during the week – and, in a typically generous gesture, lunch menus feature selections from the à la carte list not normally found on value menus, such as roasted hake with smoked haddock velouté, herb gnocchi, peas and chargrilled baby leek.
Derry Clarke's much-admired deft combinations of flavours, precision cooking and use of top-notch Irish ingredients are showcased in stylish presentations that are cutting edge yet steer clear of the bizarre and clichéd – and inspired pairing of the lesser used and prime cuts is seen in dishes like the Hereford beef fillet served with braised oxtail and brisket, pearl barley, new season girolles, swede and smoked garlic butter.
Renowned sommelier, Martina Delaney, also makes a major contribution to the guest experience through a wide ranging wine list that reflects latest finds as well as classic favourites, and excellent wine service.
All are to be heartily congratulated on their achievements past and present at their excellent restaurant – and we wish them another 21 great years ahead."
L'Ecrivain's 21st birthday, in 2010, saw one of Dublin's top restaurants receive a well-thought out redesign and there is still a freshness and buzz about the dining room that is more usually associated with a brand new restaurant, T ...
more...
---
Show me all 2011 Award Winners