IRISH BREAKFAST AWARDS 2011 NATIONAL WINNER
Ivyleigh House - Portlaoise, Co Laois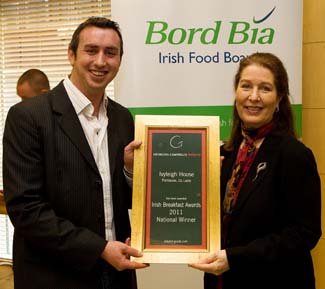 The importance the Guide attaches to breakfast is no secret – of all the details that show the true philosophy guiding the way an establishment is run, breakfast is the most revealing.
Breakfast is the last meal guests will have before leaving any place where they have stayed the night, and the memory will linger.

It's an area that can be - and often is - a USP: the extra care that certain establishments take with their breakfasts is earning them a loyal following.

And not just for the breakfast itself, but because of the spirit of generosity and true hospitality that giving so much more than the basic requirement implies - and is carried through into all other aspects of these special places. Consequently, breakfast award winners are people who are often shortlisted in other categories in our annual awards too.
"No strangers to our breakfast awards – they won a regional award in 2002 – breakfast is always a treat at this fine Georgian townhouse, elegantly presented with fine bone china and traditional Newbridge silver cutlery to make it taste even better.
You'll get subtle variations on the traditional offerings (natural yoghurt is served with geranium jelly, cereal selections include granola and the house muesli), and specialities that get regular guests coming back for more include gorgeous porridge made with pinhead oatmeal (and served with brown sugar and cream…), leaf tea, homemade bread, jams and marmalade – and their unique 'oh so light' Cashel Blue cheesecakes, served with crème fraiche...
Consistent excellence."
This lovely early Georgian house is set back from the road only by a tiny neatly box-hedged formal garden, but has a coachyard (with parking), outhouses and a substantial lawned garden at the back. It is a listed building and the present owners, Dinah ...
more...
---
Show me all IRISH BREAKFAST AWARDS 2011