2012 Award Winners SUNDAY LUNCH OF THE YEAR AWARD 2012
'VM' Restaurant, Viewmount House, Longford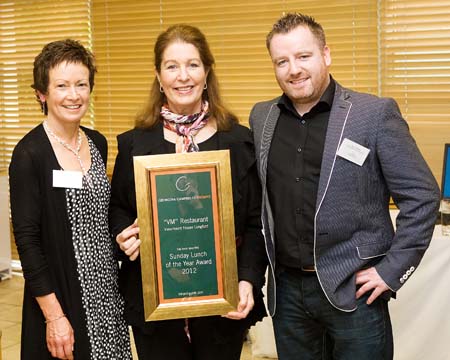 Everywhere we have travelled this year the story has been the same: while leisure business may be up and down according to variables such as shock-horror economic stories and fluctuating currency exchanges, which affect visitors' decisions to travel, the special family occasions - events like birthdays and anniversaries, weddings and even funerals – still go on regardless and have kept many a restaurant in business. Likewise, although spending on the big nights out may be down, Sunday Lunch is back with a vengeance for family get togethers.
But forget about the carvery lunch of old, what we're seeing more of now is a seriously classy outing, where the venue is chosen with care so that family members of all ages can get together in lovely surroundings and relax around the table to enjoy the very best of food at a more reasonable price than is usual at dinner.
Some of the best meals we have had this year were Sunday lunches – and not only does this new award recognise the special significance of family outings in these cash-strapped times, but our winner demonstrates how it can be done with great style and no compromise in quality, in terms of the food, cooking, surroundings or service, making it a benchmark award.
'VM' Restaurant at Viewmount House
is one of those exceptional restaurants where any meal is a real treat - suppliers are credited with pride and the cooking, by Euro-Toques chef Gary O'Hanlon, is outstanding, with all the little niceties observed.
So any visit this delightful restaurant is sure to be a memorable experience – and guests should make sure to allow time to enjoy a stroll around the beautiful gardens too.
James and Beryl Kearney's lovely 1750s Georgian house just on the edge of Longford town was once owned by Lord Longford, and is set in four acres of beautiful wooded gardens, designed as a series of rooms. It really is a delightful house and has ...
more...
---
Show me all 2012 Award Winners