2014 Award Winners PET FRIENDLY HOTEL OF THE YEAR 2014
Echo Lodge, Ballingarry, Co Limerick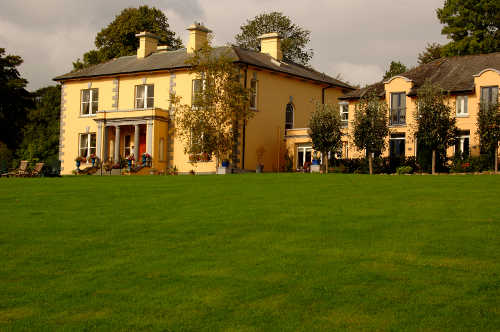 At a time when everyone's trying to find new ways to attract business, Ireland is missing a trick when it comes to pet friendliness. We lag way behind our UK neighbours in this – a market which we would dearly like to win over; if you google an area in Britain looking for somewhere to stay, chances are that pet friendly options will pop straight up. Water bowls are put out at doors and in bars wherever you go and dogs are genuinely welcome almost everywhere. But many establishments here have quietly welcomed dogs for years, and maybe we're seeing the light as it's been very noticeable in the last couple of years that a growing number are now recognising the opportunities in this market – including, interestingly, some 5* star hotels. And why not, if you want to persuade holidaymakers to choose to by-pass the airport...
A sumptuous Victorian hideaway with very luxurious accommodation is not perhaps the kind of place you might expect to be pet friendly. But the proprietor is one of a minority of Irish hoteliers who understand that, for many people, pets are part of the family and they expect them to be treated accordingly.
Far from the token pet friendliness of those who offer distant kennels or the use of an outhouse in the yard, his welcome to guests travelling with pets is genuine and thoughtful. Pets are allowed in most areas of the hotel, except the restaurant, and they can stay with their owners in suitable ground floor rooms with doors opening onto the garden - very handy, as you can pop out with your pet without having to go through the hotel reception areas.
What a magical haven for pet lovers this is.
Dan Mullane's famous restaurant The Mustard Seed started life in Adare in 1985, then moved just ten minutes drive away to Echo Lodge, a spacious Victorian hideaway set on seven acres of lovely gardens, with mature trees, shrubberies, kitchen garden and ...
more...
---
Show me all 2014 Award Winners